What is Ultrasonic Cleaning?
Ultrasonic cleaning of your blinds uses the latest technology with environmentally safe, biodegradable cleaning agents to create the most positive cleaning force in today's society – and for the future.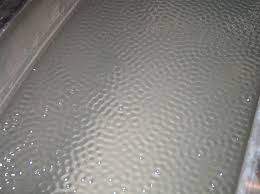 The Ultrasonic process creates millions of microscopic bubbles which form repeatedly and implode on a given surface. This powerful action removes visible and microscopic dirt particles.
Use of this technology will dramatically reduce/eliminate germs, pet dander, pollen, dust mites, nicotine and all other allergy contributors.  This makes a healthier home for your family or workplace for your staff.
Blinds are pre-cleaned/treated before being Ultrasonic Cleaned.  This ensures maximum cleanliness when the blinds are returned to your home or business.
The Ultrasonic process can remove a build up of dirt, nicotine, grease or soot. Hard-to-clean areas such as the head rail, cords and ladders also become cleaner. This adds longevity of use and luster to the blind.
We specialize in cleaning blinds although other items can be cleaned.  We have cleaned fire damaged items, window screens, golf clubs and jewelry in the past.  If you have something you want ultrasonically cleaned, please feel free to contact us and we will do our best to assist you.
Check out this Video to see how Ultrasonic Cleaning works:
Disclaimer:
Blinds of a certain age because of exposure to UV light and normal wear and tear they become worn and faded.  Over time their parts, fabric, and strings deteriorate and become brittle and weak. Blinds that have plastic parts can dry out and deteriorate over time, some of these parts are replaceable but sometimes they become obsolete and are not repairable or replaceable.  Blind Cleaning Experts Ltd cannot be held responsible to replace for normal deterioration such as exposure to UV light and wear and tear.
Blind cleaning experts use the most updated equipment, parts and processes to bring your blinds back to as new as possible. We are a cleaning company we can't warranty or extend any manufactured warranty, product or fabric.  Our success rate has been exceptional. Every year we process 10's of thousands of blinds without incident and over our ten years in business, we have serviced over 8 thousand satisfied customers.
When we pick up your blinds, we will take every precaution to ensure all parts are working properly during the cleaning process and with your consent.  Repairs will be sent to the manufacturer or a local qualified blind repair person. Because of the availability of parts and sourcing repairs to a third party we don't have control of turnaround times for repairs. You will be given an approximate time of return once we have it at our shop.
Fabrics, tilting rods and pull cords will break down over time and can fray or fall apart either at a seam or pleat. When aged in direct sunlight and of other exposures such as opened windows, smoke and cooking.  Metal, plastic, dyes, and fabrics will fade at different rates and can create a shadow effect. These stains can be acidic and with UV light can bleach the product, and then will be embedded into the finish or fabric and will not come out.